Charlie Ipcar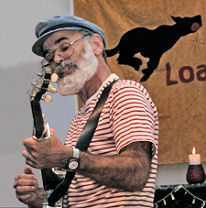 Singer of contemporary and traditional songs of the sea, and author of the Sea Songs of Cicely Fox Smith and Uncommon Sailor Songs songbooks. Also co-editor of The Complete Poetry of Cicely Fox Smith.


Member of: Greybeard's Fancy, Sea Fever, Shantymen All

Contact:

ERASETHISipbar AT gwi DOT net
80 Main Street
Richmond ME 04357

Webpage:

Appeared at NEFFA 2018:
Foc's'le Songs Open Sing

GB

Saturday April 21, 11:00am to 11:50am, High School Auditorium Stage [show on grid]
While sea shanties helped sailors get their work done, foc's'le songs were sung when off duty to help pass the time and entertain themselves. Come and share these less often sung songs with us.
Steamboat & Roustabout Songs

GS

Saturday April 21, 8:00pm to 8:50pm, High School Rm. 176 [show on grid]
Presentation of traditional and contemporary songs about steamboats and roustabout work songs from the Mississippi River Basin and the East Coast; audience encouraged to sing on choruses and to lead some songs.
Thar She Blows!

E

Saturday April 21, 9:30pm to 10:20pm, High School Auditorium Stage [show on grid]
For many years, the arrival of a fully laden whaling ship meant the homes and streets of cities like London, Boston and New York would be brightly lit and the machines that powered the Industrial Revolution would sun smoothly - all thanks to whale oil. But the whalermen also gave us folk art, the great American novel, Moby Dick, and a large collection of fine songs. Come explore with us the whaling trade through the songs they left behind.
Open Shanty Sing

GB

Sunday April 22, 2:00pm to 2:50pm, Middle School Rm. 103/104 [show on grid]
Dedicated to all the shanty singers who have crossed the bar, join us in singing shanties and sea songs in their honor and our enjoyment.

NEFFA Homepage - Performer Index