Jennifer Schoonover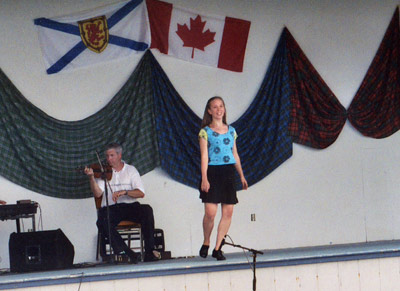 Scottish dancing


Member of: Hamish MacWhortle's Ceilidh Band, Highland Dance Boston, RSCDS Boston Branch (non-performing group contact), Scottish Step Dancers

Contact:

ERASETHISoutrageoussocks AT gmail DOT com

Webpage:

Scheduled to appear at NEFFA 2021:
Scottish Ceilidh Dancing

D

Sunday April 25, 1:00pm to 1:50pm, Social Dance Hall [show on grid]
Traditional dances arranged for Zoom and taught by Jen Schoonover Scottish Ceilidh Dancing The word 'cèilidh' is a verb meaning 'visit' in Scottish Gàidhlig. It's also come to signify a repertoire of party dances popular at events and celebrations around Scotland. At this virtual workshop, Jen Schoonover will share and teach a selection of Cèilidh dances adapted specifically for remote video conferencing. Many of these dances are designed to be done together by couples, but adaptations accommodating both solo and partnering dancers attending will be presented.

NEFFA Homepage - Performer Index