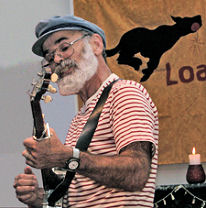 Singer of contemporary and traditional songs of the sea, and author of the Sea Songs of Cicely Fox Smith and Uncommon Sailor Songs songbooks. Also co-editor of The Complete Poetry of Cicely Fox Smith.


Member of: Greybeard's Fancy, Roll & Go (also group contact), Sea Fever, Shantymen All

Contact:

ERASETHISipbar AT gwi DOT net
80 Main Street
Richmond ME 04357

Webpage:

Appeared at NEFFA 2023:
Uncommon Drinking Songs

GB

Friday April 21, 8:00pm to 8:50pm, [Show on Grid]
Drinking songs are always a favorite at the pub and chantey sessions. I'll be presenting some uncommon drinking songs that I think are well worth singing, some as old as 1808 and some recently composed or old songs that I've added new verses to. Most of these songs have choruses or refrains but a few are ballads. I will be leading the songs for the first 15 minutes and then inviting two friends to lead some other songs. Most of the songs will be unaccompanied but some will be accompanied by 5-string banjo.

NEFFA Homepage - Performer Index